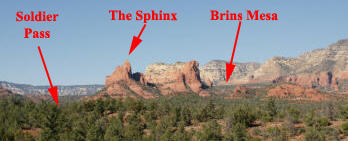 Shown below is a topographic map outlying the Brins Mesa Soldier Pass Loop. This hike took us about four hours and is approximately 4.5 miles. The hike is moderate with a 600 foot elevation: Excellent views along with passing by the largest sink hole in Sedona called the Devil's Kitchen and two natural arches.
The route discribed in this section will start at the Brins Mesa parking lot, hiking north to the top of Brins Mesa.
Click on the links below for an expanded description of the trails & hikes Click On Picture To Enlarge
This website is not designed to provide directions or navigation of the trails but solely intended to give you an idea what you may see and experience on the hikes.
| | |
| --- | --- |
| The large aerial photograph below is an animated Gif file and may take a while to fully load and display the trails. | |
Some maps prior to 2009 have the Brins Mesa trailhead and parking lot next to Jordan trail's trailhead. A new and expanded parking area has been constructed north of the original parking lot and trailhead. The parking lot is now next to Cibola Pass Trailhead. Thus, on the return, take Cibola Trail as it branches North off of Jordan Trail. Cibola Trail is steeper but it will save about a half a mile and avoids hiking next to power lines.
Below is a composite picture showing an aerial photo with the trails outlined. The trail outlines will disappear every 7 seconds. This is a two meg file and may take some time to download. At the bottom of the page is a topographic map of the trails.