Sedona hiking trails can be fun and relaxing. Several day hikes are described on this website along with over 1000 pictures to help you choose your day's activities. This website is not designed to provide directions or navigation of the trails but solely intended to give you an idea of what you may see and experience on the hikes.

Play to Here Presentation: Your browser does not support the audio tag. < /audio>

The first picture on the left is from a reflection pool on West Fork Trail. The other pictures show additional breathtaking views of Sedona.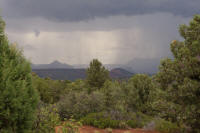 Before starting, one must be prepared and follow safety precautions. Always take plenty of water and wear a wide brim hat and sunscreen. When hiking one should use one third of water when half way on a hike, keeping a third of the water in reserve. Hiking boots or all terrain walking shoes with good traction are necessary. Take a backpack with a map, toilet paper, plastic bag, knife, food, flashlight and first aid kit. Always get a weather report. Trails can be dangerous when wet, reducing footing and increasing the chances of injury. All trails traverse dried creek beds which can become rapidly swollen during rainstorms.
My Favorite Trail is Hog Heaven -- View Trail and Pictures.

The Sedona Chamber of Commerce Visitor Center has updated information on trails and transportation. As of March 2023, there are two major bus services. The Verde Shuttle can transport vistors between different areas in Sedona. Threre website is. https://verdeshuttle.com/



The Verde Shuttle can also transport visitors to the freeSedona Shuttle. There are also three parking areas where the Sedona Shuttle can be boarded and visitors can ride to several trailheads, without obtaining a red rock pass for parking. The following trailheads are serviced by the Sedona Shuttle.

1. From the West SR 89A Park and Ride (905 Upper Red Rock Loop Rd.):
-- Route 11 to Dry Creek Vista and Mescal trailheads
2. From the Posse Grounds Park and Ride (20 Carruth Dr.):
-- Route 12 to Dry Creek Vista Trailhead
-- Route 14 to Soldier Pass Trailhead
3. From the North SR-179 Park and Ride (1294 SR 179):
-- Route 15 to Cathedral Rock and Little Horse Trailheads

Red Rock Passes can be obtained at The Sedona Chamber of Commerce Visitor Center.

Accommodations. I recommend the Dessert Qual Inn. I have stayed there for over 10 years. Staff is friendly and just next door is a reasonably priced grocery store (Clark's Market), an excellent restaurant (Red Rock Cafe), Chase Bank, a coffee shop (Firecreek Coffee) and a small Japanese reastaurant, Minami.



*** Click on Pictures to Enlarge ***









Types of Trails: Many portions of the trails can be seen on satellite photographs on Google Maps

Easy: Little change in elevation. Still many loose rocks with stepping stones used intermittently to traverse ridges and gullies.

Moderate: Significant change in elevation. Many stepping stones used to go up in elevation. The hiker can traverse the trail standing up.

Strenuous: Huge change in elevation. Many stepping stones and sections of near vertical climbing. The hiker has to use all fours to traverse these sections.